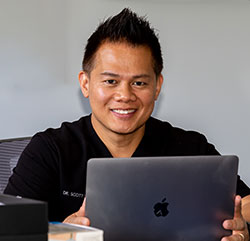 Scott Samera, DPM
Scott Samera, DPM is a board-certified podiatrist and surgeon in private practice in the North Central Florida area since 2011.
Dr. Samera received his Bachelor of Science degree in Recreation Therapy from the University of Florida and continued post-baccalaureate work at the University of South Florida. Dr. Samera then attended the New York College of Podiatric Medicine in New York City and graduated with a Doctorate of Podiatric Medicine in 2006. He completed his surgical residency at James A. Haley Veterans' Hospital in Tampa, FL where there was a strong emphasis on trauma and elective surgery, and extensive training in wound care and research.
Dr. Samera returned to the North Central Florida area where he has been serving his community in private practice in Lake City and Branford for 11 years. He feels fortunate to take care of the elders in his community and those that knew him as a child.
He is board certified in podiatry and is also a member of the American Podiatric Medical Association and the Florida Podiatric Medical Association. He has given lectures at the local hospital and provided clinical education to many local home health agencies. He has appeared on "Perspective" a program hosted by Florida Gateway College, and has hosted the podcast, "Putting Your Best Foot Forward with Dr Scott Samera - Aging Your Best Life".
The small town, southern charm of the area continues to have a special place in Dr. Samera's heart. He and his wife Danielle feel blessed to be able to raise their three children here. His family name is well known for health care in the area as his father, Dr. Ben Samera, MD moved his family from Ohio to begin his medical practice in Branford over 40 years ago
In his leisure time, Dr. Scott Samera enjoys spending time with family and friends. He is an avid sports fan and concert goer. He stays physically fit by his work in the gym, playing soccer, and skateboarding.
Dr. Samera appeared as a guest on "Perspective" a program hosted by Florida Gateway College